Mercandise Frequently Asked Questions
We have provided size charts for each product with specific measurements for each garment. To find your perfect fit, choose one of your t-shirts that fits you well and lay it flat on a table. Measure (in inches) the height and width of the shirt, then choose the closest size in the size chart. IMPORTANT: Always check garment measurements carefully! Don't just order your usual size by habit. Sizes can vary greatly between different manufacturers. If in doubt, contact us for assistance! If you can't find a suitable size please contact us as we may be able to provide the same design on a different style of shirt to accomodate your request.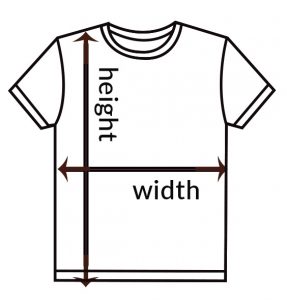 WHAT IS A SIZE TOLERANCE? A size tolerance is the allowable limit of variation in a shirt measurement. you may find that your particular garment differs slightly. It is a standard in the industry that garments sizes have something called tolerance. This means that your garment may be approximately +/- 1 inch different from the measurement in the size chart.
In traditional made-to-sell retail stores, products are made in large quantities and often exceed market demand. Around 85% of all textiles produced by the fashion industry end up in landfills, making it a major contributor to environmental damage. Fast fashion uses advertising hype and low-pricing to deliver frequent new looks inspired by catwalk or celebrity styles. The pressure to reduce cost and production time means fast fashion has a huge negative environmental impact in terms of water pollution, the use of toxic chemicals and increasing levels of textile waste. In fact, textile dyeing is the second largest polluter of clean water globally, after agriculture.

Sustainable fashion is the future! We are passionate about protecting the environment and we pride ourselves on being part of the sustainable fashion movement.
Each product you see in our catalog is custom printed to your specifications—once you place an order, we produce it specifically for you. This allows us to avoid overproduction and textile waste.
Most of our clothing is printed with the direct-to-garment (DTG) printing method. The printing tech we use is made with sustainability in mind, and our DTG printers use almost zero wastewater and less energy. The inks we use for printing are water-based and free of harmful chemicals.
We warehouse only the products customers actually want and don't throw our leftover stock into landfills. We also donate any products with small faults to local charities.
Long-lasting quality

Each product we add to our catalog is thoroughly tested to ensure high quality. To make sure the products last long, our products must pass durability, wash, and wear tests.
Look great without trashing the planet.

Made-to-order is making a difference in traditional retail and taking a step towards sustainable and responsible fashion production. Every time you choose a more eco-friendly product you are making a positive impact.
Check the care instructions on the garment label for general wash instructions, these are generally found under or on the neck label, or sewn into the side seam. Give your new garment a wash before wearing.
How To Extend The Life Of Your T-Shirt
Turn garment inside out and machine wash on gentle cycle ‐ cold water Use mild or standard washing powder only Fabric softeners and dry cleaning are not recommended as these may strip the coloured ink Avoid bleach, in case of stubborn stain, use non-chlorine bleach (on unprinted areas) only when necessary. Hang-dry works best but can be tumble-dried on a low cycle Wash whites with whites, and darks with darks. Do not mix colours. When it comes to ironing, use cool iron inside-out. Don't iron the print.
If you ignore any or all of the above, your print may develop a slightly faded, vintage look faster than usual. It's a cool look, in fact many designs use photoshop to create the vintage, faded or crackled look right from the first print. Our prints are permanent and durible while also being environmentally-friendly and sustainable. Our garments are high quality apparel that should last you for many years. Each product has been thoroughly tested to ensure high quality, durability, wash, and wear tests. In our opinion, it's false economy to buy a lot of cheap clothing that doesn't last, when you can take a little time to select a custom created item that you will love and will last for a long time; not the mention the benefits of supporting the environmentally-sustainable fashion industry.
We currently only to ship to addresses within the USA.
Usually, it takes 3–7 days to fulfill an order, after which it's shipped out. The shipping time depends on your location, but can be estimated as 3–4 business days under normal conditions.
Please note: due to Covid-19 our fulfilment times for merchandise may be longer than usual until things get back to normal. We're seeing delays in our supply chain, including distributors and shipping carriers as the entire industry is grappling with challenges.
It's difficult to accurately predict the production and shipping times right now. We'll do our best to keep you up-to-date of any expected delays on the product page, as well as emailing you with updates after your purchase.
PLEASE NOTE: We're doing our best to get your orders out on time, but once they're handed over to the carriers, it's up to their sorting center capacity. We're currently experiencing carrier delays throughout the US, especially with USPS shipments. The estimated delivery time shown on our website cart page may be delayed by 1-3 weeks in some locations until things get back normal. It's not possible for us to show an accurate delivery time, as it depends on which delivery method you choose and your location. We'll keep you updated on the status of your order via email. Thank you for your understanding and patience.
Before getting in touch with us, please help us out by doing the following: Check your shipping confirmation email for any mistakes in the delivery address. Check if your package has been left at the post office. If you still require assistance please support@nashvillecalifornia.com with your order number. We generally answer within 24 hours. Occasionally emails do go missing, you you don't hear back from us shortly, please resend your request.