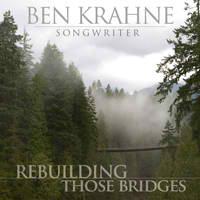 Release Date: 12/15/2011
Trying to keep a healthy balance of love, life and music with this collection of country songs. As many know, this isn't always easy. Some years all you can hear in your mind are love songs, others could be filled with boot scootin' boogie tunes. We won't even bother explaining those down and out blues periods. There's something for everyone on any day on Rebuilding Those Bridges.
Enjoy all tracks right here for instant listening pleasure. We think you'll find that these are some of the best country songs you've heard lately. Buy any of them you like right here for instant download, or the entire album.
Credits
Vocals:  AJ
Composer: Ben Krahne, BMI
Credits
Vocals: Darryl O'Donnell
Composer: Ben Krahne, BMI
Rebuilding Those Bridges: Credits
Produced  and recorded for Diamond Moon Music in Nashville, Tennessee by Jason Roller: magicshackdemos.com.
Special thanks to Donna Aylor BMI, Dan Fenstermacher BMI, Blake Hill ASCAP, Mike Daniels ASCAP and Jason Roller. Vocalists: Kalii Palmer, Ronnie Kimball, AJ, Cary Stone, Dale Peleshock, Socan. Band Members: Jason Roller guitars, bass, fiddles, madolins, Ken Soper keyboards, Nic Milliner drums.
You won't hear all the best country songs on your favorite radio station and not all albums or singles worth adding to your playlist are available at local stores. Tune into what you're missing out on... support independent songwriters and song writer and their music.</p>